EU Orders
Copies of our products are stocked at our offices in London for fast and economical shipment.

Please note that the new new double-sided poster is not yet available for shipment from the UK. If you want this version, you can order from our US order page with the understanding that a higher shipping amount is charged.

Please email Andrew Goodall if you wish to enquire about quantity discounts available on orders of a dozen or more posters.



27" x 53"
68cm x 134cm
€42


18" x 36"
46cm x 91cm
€14




3D Lenticular Print
Lenticular technology uses linear lens elements to present different images to each eye, creating a convincing 3D stereo effect. These 22" wide prints use fine 110-lenses-per-inch lenticular material. This quicktime loop shows all 12 frames, but of course you don't see 3D on the screen. (Please note that while the print quality is very good, lenticular technology necessarily limits the sharpness of the images: These prints are not quite as sharp as the other versions sold here.)


| | | | |
| --- | --- | --- | --- |
| Individual €14 | 6 pack €65 | Front: | Back: |
| | | | |


Place Mats
High quality 10" x 20" place mats, laminted on both sides and sealed around the edges. Perfect for table or classroom use, these place mats use the same high-quality printing as the larger posters. Note that place mats available outside the US/Canada have a blank back side.


10" x 20"
25cm x 50cm
6 pack €18
12 pack €29


Letter/A4 Size
These letter/A4 size prints are designed to be handed out to students. The pictures are a bit small, but still quite pretty. (Note that the atomic weights are present, but too small to be read easily in this size print.) Note that A4 prints available outside the US/Canada have a blank back side.


8.25" x 11"
21cm x 28cm
25 pack €13
50 pack €25
Card Decks
The highest quality, biggest, and most beautiful card deck of the elemenets ever created. 126 large 5" (12.7cm) square full-color cards in a strudy box.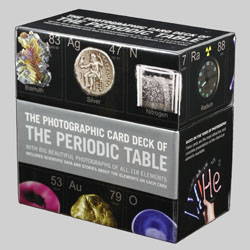 Photo Card Deck €40


Mail or FAX orders can be sent to:
RGB Research
3 Warple Mews
Warple Way
London W3 0RF
fax 020 8749 9986
tel 020 8749 3354
Please include a check or money order payable to "RGB Research", or credit card information, and €7.50 for shipping to anywhere in the EU.

Home

All text and images on this website Copyright (c) 2006 by Theodore W. Gray.