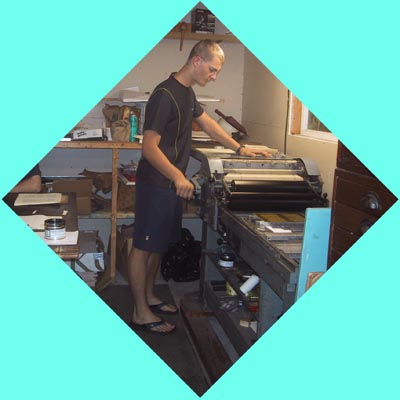 THE FINIAL PRESS, Champaign, IL
Proprietor: A. Doyle Moore
AVAILABILITY UPDATE: December 1, 2005
Guy Davenport's WO ES WAR, SOLL ICH WERDEN: The Restored Original Text had to be limited to 100 copies. But that limitation will not prevent anyone from reading the book.

We published WEWSIW to preserve and make available to any interested Davenport reader, now and in the distant future, the Urtext of what Guy Davenport came to believe was "my best shot in fiction".

Although he himself preferred the version published in 1990, Davenport agreed to this limited edition for those of his readers who might be interested in seeing what he had cut when the novella was first set in type.

If you wish to read WEWSIW, we offer three options:

1. CLICK HERE for a list of institutions that hold copies of WEWSIW. (As additional copies reach their destinations, we will update this list, which will eventually include about 40 institutions.)

2. Copies 19 and 99 of the edition are "traveling copies" that make one- month trips to qualified readers around the world. Email David Eisenman for details. These copies will circulate as long as there is demand.

3. Although no further copies remain for sale by The Finial Press, we invite interested parties to register their names with us. We will alert people on our WEWSIW waiting list to any copies known to us to be available for purchase.
---
Working sixteen months with Guy Davenport on this project, entirely by mail, was a great privilege and adventure, as any of his many correspondents would understand. Exchanging letters with Davenport was the best sort of education. Preparation of the text began in April, 2003, and continued into July, 2004. At the outset, Davenport touched up some 50 previously unpublished pages of typescript. Thereafter, he responded promptly to our many questions about the rest of the text, often in several exchanges per week.

We promised to take as much time and devote as much effort as might prove necessary to produce a book that would fully satisfy Davenport's excellent sense of typography and book design. We consulted him on every aspect of the book's physical appearance, even while we continued to perfect the text.

Davenport received the first completed copy in mid-November, 2004, less than two months before his untimely death. He did not have the strength to open it until well into December. Letters reporting his pleasure as he read through The Finial Press WEWSIW were the last we received from him. They are among our most treasured possessions.
---