Burning bulk magnesium rod

The first thing to say about bulk magnesium is that it's really hard to light. We hung the first bar from a wire out in my gravel lot, and pointed a propane torch at it. I had used a chisel to turn up a few corners, because I though they would light more easily than the bulk metal. They did, but then went out as soon as the flame reached the bulk of the cylinder. I literally had to hold the torch to the cylinder for 15 minutes or more until it finally started burning for real. The whole thing must have been heated to near the ignition temperature before anything happened. Here's picture of Ed and the rod when it first started burning: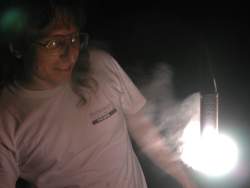 Once it started, it did burn nicely, and lit up a good area: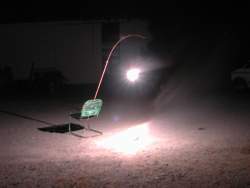 It dropped marvelous flaming balls of molten magnesium to the ground below: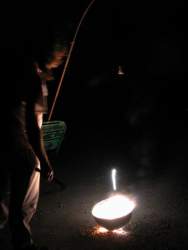 Those flaming balls continued to burn and created fabulous volcanic formations: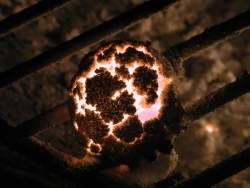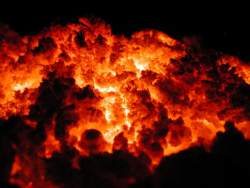 Next we tried burning one from the top down, to see if it did anything differently. It was more or less the some, though it did form a nice mushroom head when it first lit (after another 15 minutes of propane):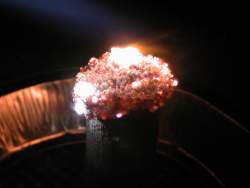 The end product of it all was a pile of blindingly white magnesium oxide crystals, which crumbled away by morning: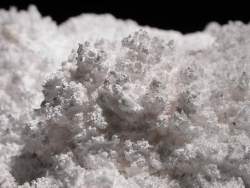 Burning this rod was fun, but nothing compared to the infamous NeXT cube burning conduced by Simson L. Garfinkel.